Skip to Content
Safe and Effective Laser Treatments in Dracut Mass
Do you want to remove hair or skin imperfections and improve texture? Do you want to feel confident in those providing your treatments? Look no further than A Smoother You Inc, the leading provider of laser treatments in Dracut, MA, and surrounding areas. We're led by a seasoned MediSpa staff and a Certified Medical Aesthetic Nurse, who holds safety as a top priority while giving clients the beautiful results they want. Our team of medical and beauty experts will make you feel comfortable and secure throughout your treatments and help you attain the best outcome possible.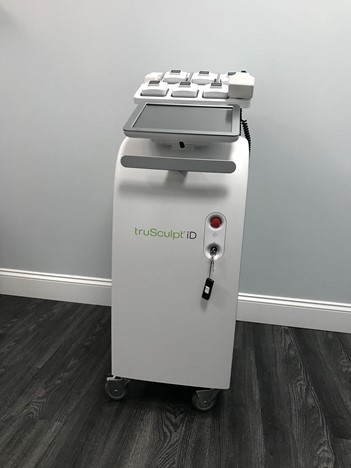 What Is truSculpt iD?
A Smoother You is proud to offer truSculpt iD, a revolutionary non-surgical, body-sculpting treatment that allows you to personalize your ideal body in as little as one 15-minute treatment.
truSculpt iD is a safe and effective technology that is clinically proven to permanently eliminate fat cells in stubborn areas around our abdomen, arms, under the chin, legs, and flanks. With truSculpt iD, you can get the body definition you want, even in areas that have been resistant to diet and exercise.
How It Works?
truSculpt iD uses innovative Monopolar RF technology to selectively target fat and therapeutically heat it – until fat cells are eliminated by passing through the body naturally.
An average of 24% fat reduction is achieved in just one treatment. We recommend 2 treatments 6 weeks apart to achieve maximum results.
How Is This Different Than Other Body Sculpting Procedures?
This procedure is versatile and effective to treat a wide range of patients who may not be a Candidate for other contouring procedures due to treatment location, skin type, fat thickness, and presence of skin laxity.
There is no visible downtime after the procedure and normal activity can be resumed immediately.
We recommend 2 treatments for the best results usually seen within 12 weeks.
The treatment has minimal discomfort and has been compared to a hot stone massage.
The treatment time is dependent on the treatment size and how many areas are treated.
Treatment time is typically 15 to 30 minutes to treat the abdomen and flanks.
What Is an IPL (Intense Pulsed Light ) Photo Facial?
Photo Facials:
For those looking to improve the overall texture and appearance of the skin, IPL has exceptional results for photo rejuvenation. Benefits include reduced pore size, reduced wrinkle size and a more even skin tone. Best of all, there's minimal discomfort and virtually no down time.
IPL photofacial is an innovative way to quickly, safely and comfortably improve your skin's texture, tone, and color. Though a noninvasive method of photo rejuvenation, IPL photo facial treats photo- aged skin, and removes age spots, most benign brown pigments and redness caused by broken capillaries.
Hair Reduction:
Unwanted facial and body hair can be permanently reduced using Laser/Light with the Cynosure Icon™ Aesthetic System.
Safe, Effective & Offers Permanent Results
The ICON system provides permanent and effective hair reduction treatment. Just a few simple treatments is all it takes to minimize hair growth for good. Unlike shaving that lasts days, waxing that needs to be repeated every few weeks, or tedious electrolysis, permanent hair reduction is a lasting solution that takes away the everyday hassle of dealing with unwanted facial and body hair.
ICON light-based technology works by targeting and destroying the hair cells responsible for hair growth without harming the surrounding skin. This approach is fast, simple, with each treatment complete in just minutes.
Most of our clients need 6 treatments 4 to 6 weeks apart, depending upon the area.  Don't wait any longer! Get smooth long lasting results at A Smoother You located in Dracut Massachusetts.
How does IPL Photofacial work?
IPL Photofacial utilizes a laser light medical device that delivers a series of gentle pulses of visible light onto the surface of your skin. In a series of treatments, the light will target the surface of your skin to effectively eliminate redness, broken capillaries, brown spots, sun damage, large pores, fine lines, and Rosacea and melasma conditions. Upon assessing the degree of skin damage, specific settings are selected by a Registered Nurse to customize photofacial treatment for best results. Some patients/clients opt for chemical peels or microdermabrasion in conjunction with photofacial treatments to enhance results.
How many treatments will I need?
On average, 1-3 treatments are recommended, scheduled at 4 week intervals.
When will I see results?
Within 2-3 weeks after your treatment, your complexion will be clearer and younger looking. You will notice a reduction in redness, flushing and dilated capillaries. The skin looks healthier as sun damage, fine lines, pore size, freckling and irregular pigmentation is minimized. Remember to avoid sun exposure, wear a broad spectrum sun-block, even in the winter months. Protect your rejuvenated complexion.
What Is the Vivace Microneedle RF?
Vivace
The Vivace Microneedle RF device is the newest generation of radiofrequency micro-needling and is FDA-cleared for your safety. This minimally-invasive treatment stimulates the natural production of collagen and is shown to be effective in alleviating facial wrinkles, and fine lines, and tightening and toning the face, neck, or anywhere else on the body.
We start with the best-in-class Vivace Micro-needling RF device, designed for a comfortable patient experience. First, we apply a compounded numbing cream, and after 30 minutes we start the treatment. After 3 passes your treatment is complete and a cooling mask is applied. A post-treatment serum is sent home with every client which enhances healing. For the best overall result, we recommend 3 treatments 4 to 6 weeks apart.
Quick
Minimal Downtime
Virtually Pain-Free
Results You Can See in 2 Weeks
Premature aging
Skin Laxity
Lines and wrinkles
Scarring from acne, chicken pox, injuries, or surgery​
*We can add PRP (Platelet Rich Plasma) Therapy into this treatment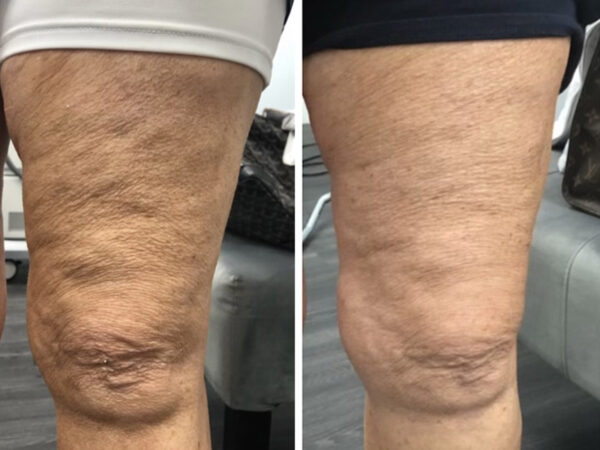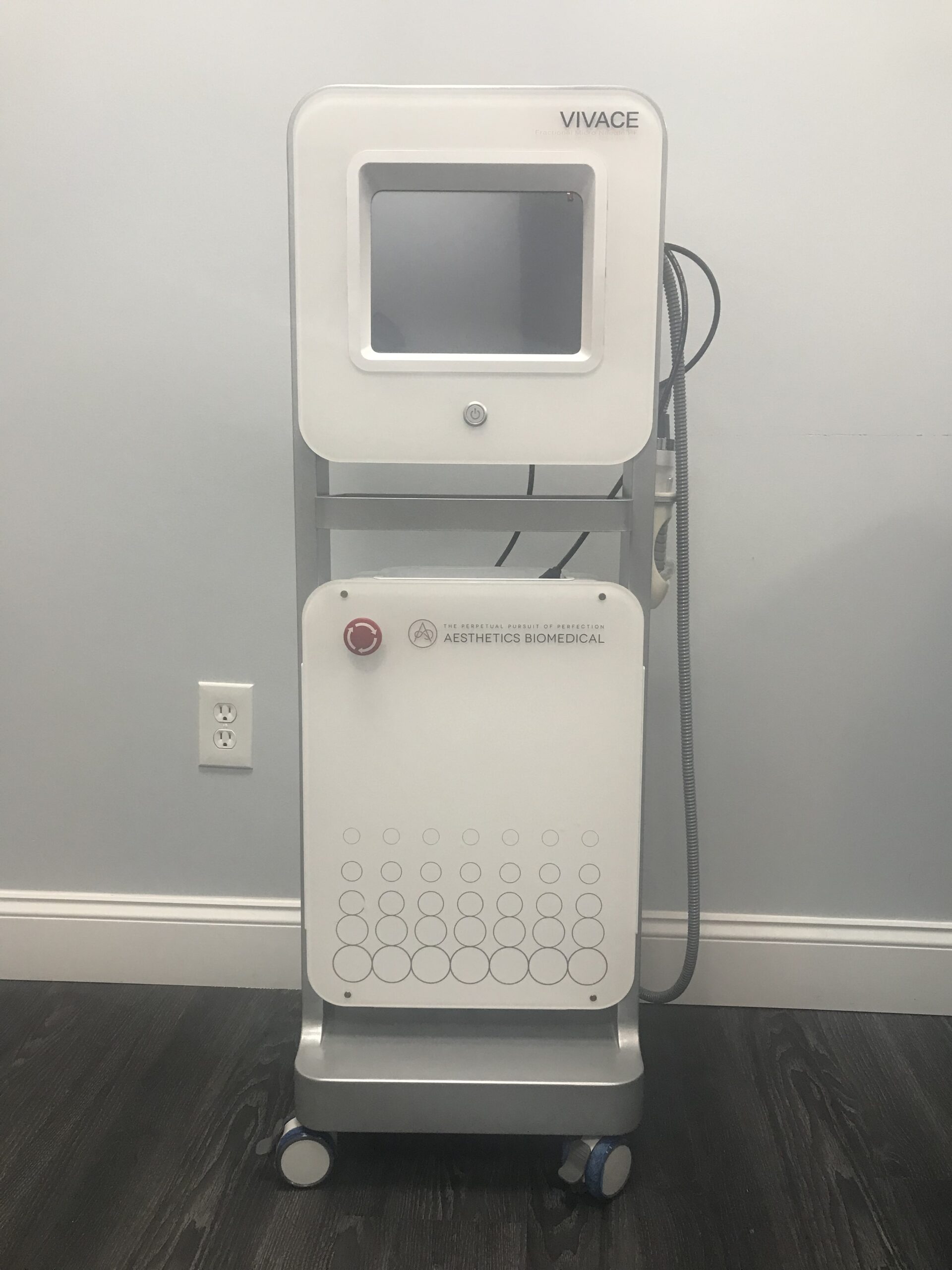 Are Laser Treatments Right for You?
We offer the latest in laser technology, whether you have brown spots, sun damage, unwanted hair, or broken capillaries IPL or laser hair removal is the treatment for you.
Schedule Your Consultation Today